Product
6 nursery products that pull double (or triple!) duty to cut down on clutter
Justine Lorelle LoMonaco
Product
6 nursery products that pull double (or triple!) duty to cut down on clutter
Justine Lorelle LoMonaco
When you first start shopping for baby gear, the options can be overwhelming. (And, odds are, you'll get a few recommendations for products you'll only use for a short time in your baby's life!) Wouldn't it be great if you could fill your nursery with smart, convertible products that would grow with your little one—and save you the trouble of replacing them every few months or years?
Not too surprisingly, we agree.
If you prefer to maximize your baby budget with products that will pull double (or even triple) duty, you've come to the right place. Here are some of our favorite convertible or adaptable nursery items that provide years of use for your child beyond the newborn stage through toddlerhood​​—and in some cases, beyond.
Factors to consider when adding products to your baby registry
Not ready to purchase? No worries—here are some tips to keep in mind to maximize your nursery budget when you're ready to register or buy:
Read the fine print.
In virtually every case, baby gear will come with specific instructions around age and weight restrictions for when the product can be used. These aren't just friendly suggestions—these standards are created as the result of rigorous testing required to prove the safety of a product before bringing it to market. If you're looking for products that can really go the distance, look for broader age ranges and convertible designs that can adapt to your little one's specifications.
Check out the accessories.
In some cases, one product can be easily modified to serve multiple purposes with a few simple swaps. For example, many baby bottle manufacturers now offer handles and sippy cup tops that you can add to the bottles you already own (instead of buying a whole new line-up of sippy or straw cups to clutter up your cabinets). Before tossing gear and purchasing something new, check the brand's website to make sure they don't offer accessories that can extend the life of your product.
Consider the price breakdown.
Multipurpose or convertible products often come with a heftier price tag–but it's important to remember that it reflects many more years of use than baby gear with a single configuration. Splurging on a product you'll use every day for years of your little one's life has a much better return on your investment than a "bargain" item you'll only end up using a few times. Plus, this can be a great time to enable group gifting! Universal baby registry sites like Babylist and Poppylist let a group of relatives or friends chip in on big-ticket items, or you can use buy-now-pay-later options like Affirm to spread out the cost over time in several simple payments.
Product picks
Here are the multipurpose products we think are worth every penny:
1. The smartest crib on the block
Of course, we'd be totally remiss if we didn't include the Cradlewise Smart Crib in our round-up. Not only does it help you cut down on clutter by checking the bassinet, crib, white noise machine, and baby monitor boxes, but your baby can use it for up to two years.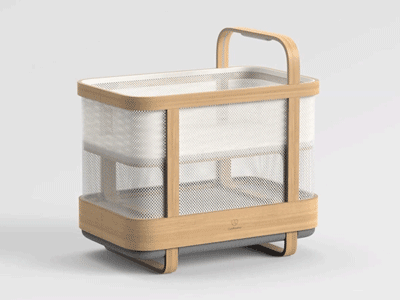 The design converts from a bassinet to a crib (perfect for babies with a well-established sleep routine). The crib's predictive soothing technology adapts to your child's sleep patterns and milestones to support better sleep for 24 months.

Check out five ways to style your Cradlewise.
2. A bouncer turned toddler seat
Bouncing or swinging seats have long been polarizing in the parenting community because some babies love them, but others? Not so much. That's why we love this convertible seat from Crisschirs. Not only does it make the perfect rocking seat for newborns (hello, a place to put the baby when you need free hands!), it can also convert into a stable seat and ultimately a toddler chair. And did we mention the sleek, neutral design? *Adds to cart*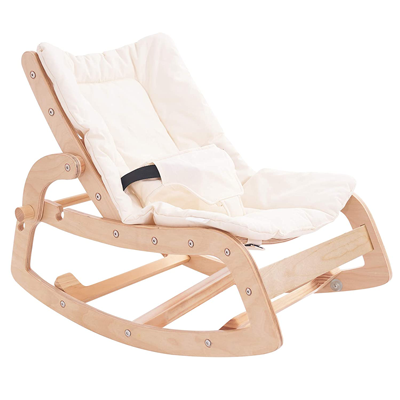 3. Adjustable activity center
While we're pulling up a seat, don't forget the table! This adjustable version from Crate&kids  is not only the perfect place for those first pull-ups and scribbles, but it extends to be tall enough to be a desk that your child (or you!) can use for years to come. Plus, the included (and removable) paper roll is perfect for inspiring years of creative art projects.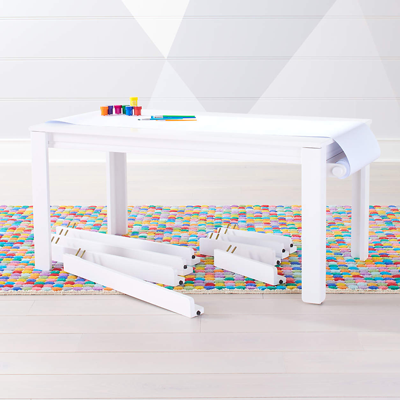 4. A place to play and learn
Play gyms are one of those necessary evils for minimalist parents—unless it's this near-perfect version from Lovevery. Not only will this brilliant play place fit perfectly into even the most neutral decor scheme, it's also designed with some serious smarts.
That's because it was created by child development experts to meet your baby's exact developmental needs…and it can be converted into multiple settings to provide a full year of play.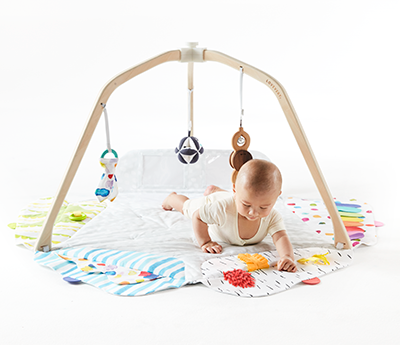 5. Multi-purpose diaper pail
While a diaper pail isn't always necessary depending on your home's configuration, if you're going to get one, we highly recommend an option that can later be repurposed to fill a different need. This Decor Diaper Plus Disposal System has a streamlined design that can serve perfectly as a recycling bin, compost pail, or even storage (just make sure you sterilize it first!).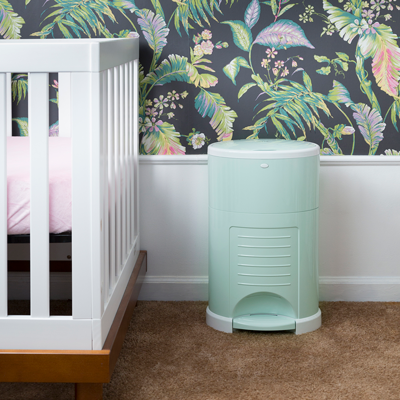 6. Transitional swaddle sack
While not technically gear, we love a simple swaddle or sleep sack to encourage little ones to get a little more shut-eye at night. This cozy version from Love to Dream checks all our boxes because, not only does it make swaddling easier on sleep-deprived parents, but it also can unzip to convert to a sleep sack for even longer use.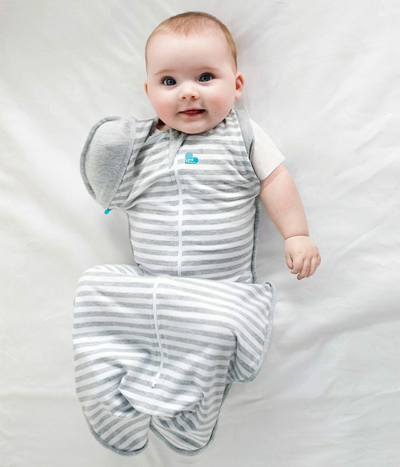 Bottom line
If your goal is to cut down on clutter (and spending) when it comes to baby gear, look for convertible products that can take the place of more than one must-have item.
What other multipurpose products would you add to this list? 👇
More posts you might like:
Save now, sleep (better) later
Reserve your Cradlewise delivery month early, and save up to $600 on better sleep for the entire family.
Stay in the know
Sign up to get sleep tips, exciting product updates, and special offers right into your inbox.