Product
Why Cradlewise's Plan Your Purchase is also a win for the planet
By Cradlewise Staff
Product
Why Cradlewise's Plan Your Purchase is also a win for the planet
By Cradlewise Staff
Waiting for your baby's arrival is like the anticipation of your birthday, the holidays, getting married, going on your dream vacation … but multiplied by a thousand. We know there's so much you need to prepare for before your little one makes their grand debut.
To make this planning process even more exciting, we've launched a new Plan Your Purchase feature on our site.
Not only is it the most significant savings we've ever had to offer, but planning your crib purchase reduces up to 600 pounds of carbon emissions.
How much can I save with PYP?
The immediate sales price of a Cradlewise Smart Crib is $1,999, but the Plan Your Purchase option allows you to order in advance and save up to $600.

With each month you plan ahead, the savings will increase by $100.
You can take advantage of the Plan Your Purchase option up to six months in advance. For example, if your due date is in December, and you start planning your Cradlewise purchase in June, you'll score a maximum savings of $600, bringing your crib price down to $1,399.
Keep in mind that prices roll over each month, so the sooner you lock in your delivery, the more you'll save.
How does PYP work?
Step 1: Go to "BUY" and click on "PLAN & SAVE."
Step 2: Enter your due date and email address.
Step 3: Choose your crib delivery month and see your savings.
Step 4: Click "APPLY SAVINGS" and then "ADD TO CART."
Step 5: Check out and celebrate checking another item off your to-do list!
How does this benefit the environment?
Before your crib reaches you, it goes through many stages like land deliveries, overseas shipping, manufacturing, and warehousing. With Plan Your Purchase, you help reduce the carbon footprint across these touchpoints.
Land deliveries
Ground shipping uses less fuel than air shipping. When you don't plan your crib purchase in advance, the inland deliveries have to be as fast as possible through air shipping, which has a high carbon footprint.
If you plan ahead, we can do better demand/supply planning and forecasting. This helps us manage inventory in our warehouses better and choose ground shipping over air shipping, making it a more efficient use of resources.
This uses less fuel and therefore has a lower carbon footprint.
Did you know?

A single air shipment of one crib from the west coast to the east coast in the U.S. uses nearly 600 pounds of carbon emissions. This is the equivalent of carbon emissions from an average home in the US for nearly 6 months.

A single air shipment of one crib from the west coast to the east coast in the U.S. uses nearly 600 pounds of carbon emissions. This is the equivalent of carbon emissions from an average home in the US for nearly 6 months.
Overseas shipping
With PYP, more cribs can cross the ocean for the same amount of fuel.
If we get orders in advance, we can commission a batch build. Generally, the batch size is a multiple of the number of cribs that fit in one container. Each container can be filled completely and packed efficiently. This way, the container space is not left empty and more cribs can cross the ocean for the same amount of fuel.
Think of it as carpooling. It's much better to know how many people are going to a destination in advance so they can travel together and plan the route better. Otherwise, more back-and-forth trips will be needed, which uses more fuel.
For example, if we use four-fifths of a shipping container versus the entire container, the additional carbon cost we incur per crib is about 10 pounds.
And how much would 10 pounds of carbon be? Your car releases about a pound of carbon dioxide for every mile driven. So basically, when you drive around 10 miles, you release 10 pounds of carbon into the atmosphere.
Some important terms related to overseas shipping:
LCL (Less than Container Load): It's a grouped shipment. In this, the client's goods are not in large numbers enough to fill a container. So, the goods of several clients are put into one container.

FCL (Full Container Load): In this, the client's goods are transported in a filled and sealed container.
Manufacturing
Planning deliveries in advance allows us to purchase materials in large batches, leading to fewer stops and starts in the production process for each component that's used in the crib. A smoother production flow means more efficiency and less waste.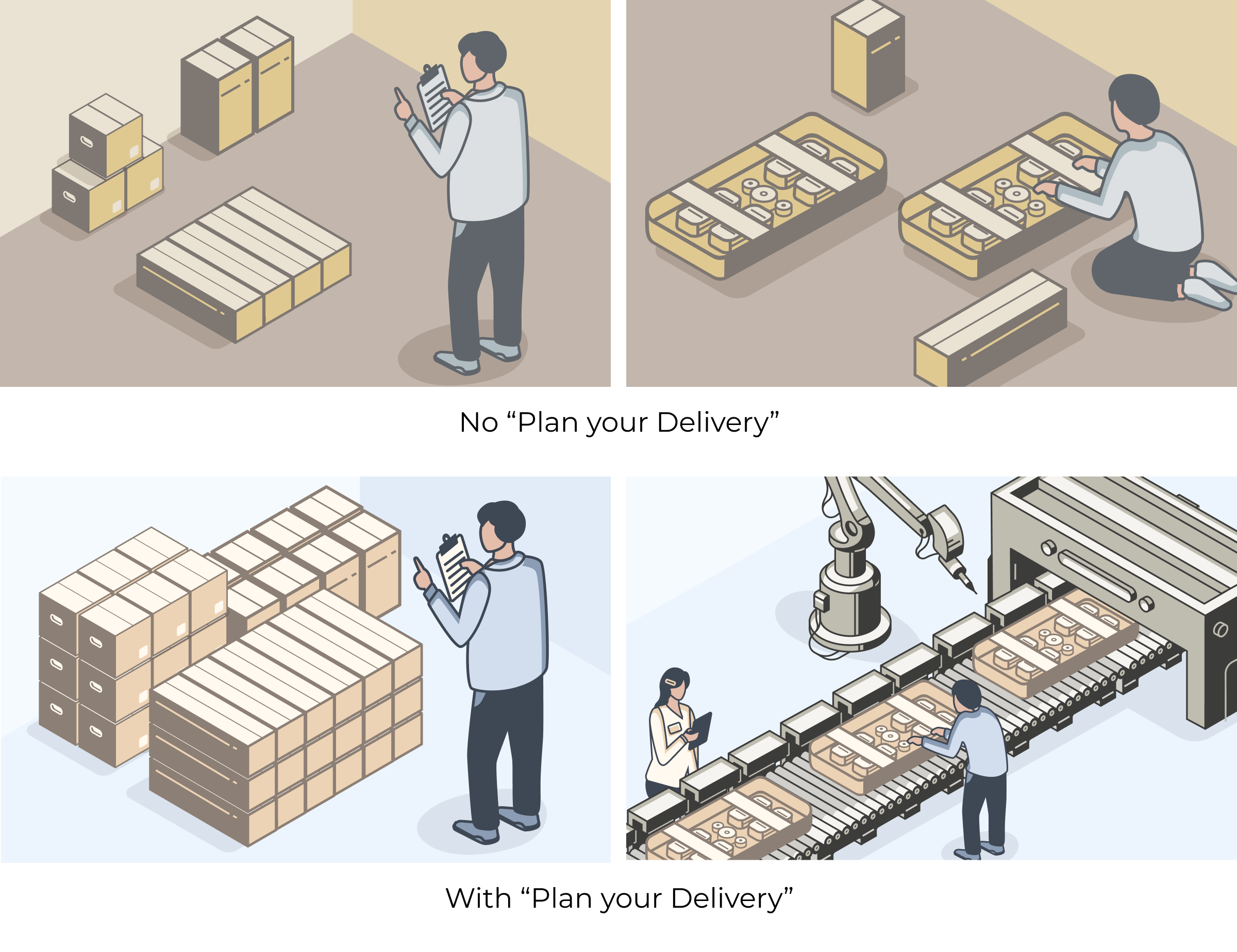 Warehousing
Fast shipping comes at a cost since it requires us to store individual spare cribs in multiple places in an inefficient manner. This requires the unnecessary movement of goods through all stages of production and supply, wasting fuel. Better planning leads to more efficient use of transport. This additional effort for warehousing in multiple places can cost an additional 10 pounds of carbon per crib.
With PYP, we know the exact order volume across different regions in the U.S. This way, we can stock up the warehouses as per the demand in that particular region. This avoids less trucking of goods between warehouses, saving fuel and reducing carbon footprint.
The bottom line
As per PYP, we promise to ship the order in the second week of every month, and then five to seven days to reach your doorstep.
You have to be ready for the baby anytime after 37 weeks, so understand the time-sensitive nature of our product. If there are sudden orders, we need to air ship to keep up the promise.
However, if the orders are planned in advance, then we can still keep the promise and use ground shipping.
Learn more about your Cradlewise:
Save now, sleep (better) later
Reserve your Cradlewise delivery month early, and save up to $600 on better sleep for the entire family.
Stay in the know
Sign up to get sleep tips, exciting product updates, and special offers right into your inbox.