Product
What to look for when choosing eco-friendly baby products for your registry
Naomi Kaye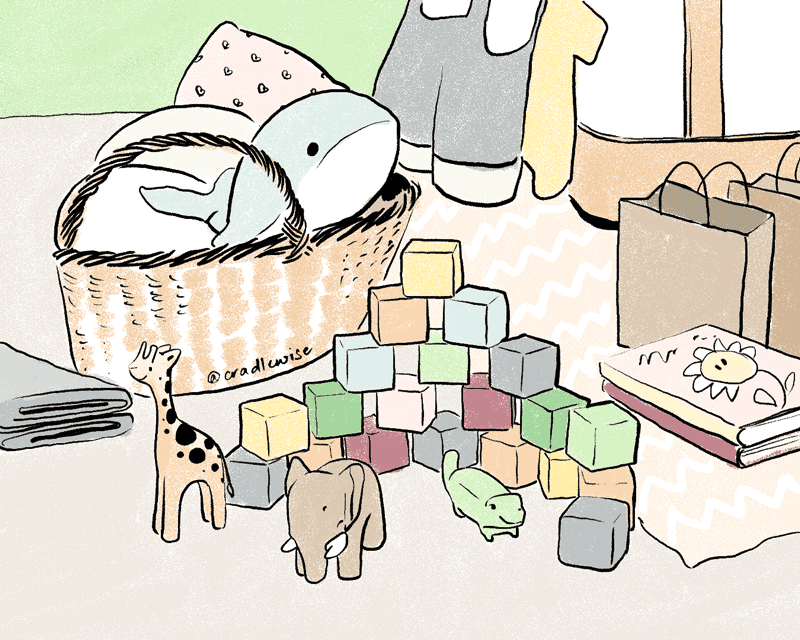 Product
What to look for when choosing eco-friendly baby products for your registry
Naomi Kaye
Starting to build a baby registry as a first-time parent may seem like a looming, daunting task. There are a staggering number of products out there for babies and new parents.
Besides feeling overwhelming, if you're trying to keep clutter to a minimum and not end up with a lot of unused items, putting together the registry can feel like another level of added stress.
Another factor is thinking about the environment. Many parents today are concerned about being environmentally conscious and want to prevent their little ones from excessive exposure to potentially risky ingredients or additives in baby products.
We're here to help you with helpful tips and suggestions about what to look for when choosing eco-friendly, minimal yet practical baby products. Let the registry building begin!
Putting together the eco-friendly baby registry
An important thing to keep in mind before you start adding things to the list (which can be exciting) is your family's lifestyle needs. For instance, if you live in a small urban apartment where space is a premium, you might want to hold off on larger items if you think you might not end up needing them. Some examples would be a playpen, swing, or designated changing table.
Bear in mind that from an eco perspective, there's a lot of greenwashing that goes on in the baby industry. For instance, when products claim to be "zero percent plastic," that can be a vague statement indeed, especially if the product comes completely packaged in plastic! Be wary of misleading and confusing labels like "chemical-free," which is probably one of the most egregious greenwashing claims. Literally everything in the world is made up of chemicals, so advertising a "chemical-free" product is…well…pretty nonsensical, when you think about it.
It may be helpful to read up on common greenwashing terms and practices when looking into baby items for your registry.
Clothing
No one can deny the off-the-charts cuteness of baby clothes. Even with a carefully curated registry, you may inevitably end up with off-registry clothing items from enthusiastic family members.
Sadly, a lot of baby clothing items are made under problematic conditions for both workers and the environment. It's worth considering getting secondhand baby clothing for this reason. If you're looking for some new clothing items for your baby, or maybe some nursing clothing for yourself, here are some registry tips to help you make environmental and humane choices:
Look for clothing brands that have been certified Fair Trade and use materials such as organic cotton or hemp.
For items like swaddle blankets or drool bibs, keep in mind that not every baby loves being swaddled or will drool a lot. It might make sense to keep those types of items to a minimum at first to see if you really need them.
Consider the seasons. If your baby is born in wintertime in a country where it gets freezing, then items like short-sleeve onesies probably aren't necessary.
Wool items can be great both for babies and for the environment. As wool doesn't need to be frequently washed, you can save on washing costs with fewer outfits and less laundry. Babies can even wear lightweight merino wool or silk/wool blends in the summertime, as it's a temperature-regulating material.
It's also great for parents who use cloth diapers, as it wicks away moisture and lets skin breathe.
While it's great to have comfortable nursing bras and some breastfeeding-friendly clothing, keep in mind you can also be minimal when it comes to nursing clothes. Plenty of "normal" clothes can still be worn when nursing without any major issues; your baby just needs easy access to the food source!
Furniture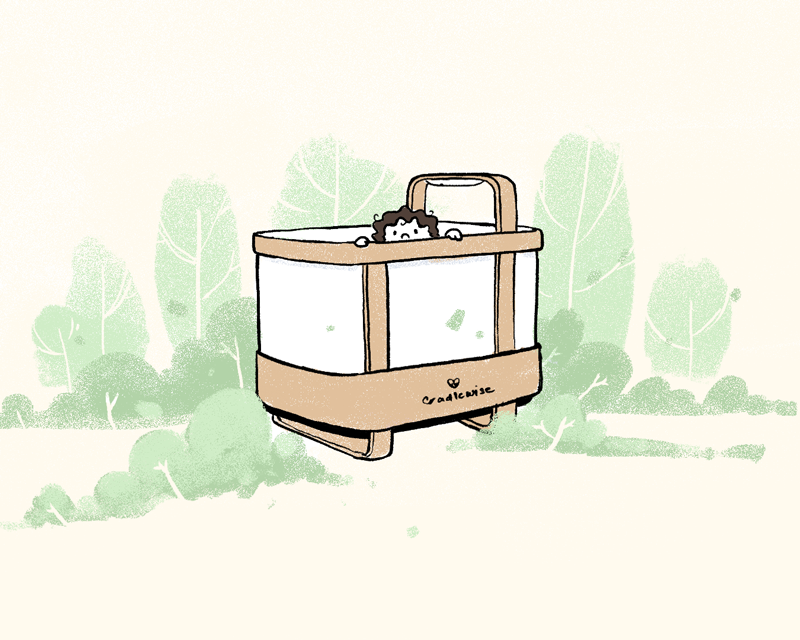 Similar to baby clothes, finding a balance between new and secondhand furniture can be a good way to go. However, keep in mind that some furniture may not be safe to get secondhand if it was made with unsafe materials or paint, for instance. So make sure to check out those aspects before you buy. Things like mattresses are generally better bought new, and if you're planning on having multiple kids, that's something to consider as well.
When you're selecting furniture for your baby, here are some things to consider:
For crib mattresses, check the materials used as well as its safety standards. For it to both be safe and eco-friendly, it's good if it's made from materials like natural latex. Be wary of the label "plant-based" when it comes to mattresses, as this is often a greenwashing claim and the mattress may still be mostly polyurethane foam.
Consider items that serve double-duty and grow with your child over time. Cradlewise can be used for up to two years and easily converts from a bassinet into a crib.
You can also think about needs versus wants when it comes to furniture accessories. If you're using disposable diapers, consider if you actually need items like a diaper pail if you're taking out daily trash anyways.
Feeding
Whether you're exclusively nursing, pumping, feeding baby formula, or combining all three, it's good to have certain supplies on hand.
There are several things to look for when choosing environmentally conscious feeding supplies for your registry:
Consider using glass bottles or stainless steel baby bottles instead of plastic. Another bonus is that they are dishwasher-safe and can last for multiple kids. Pro tip: get protective holders for glass bottles to help prevent shattering.
If you're pumping, reduce any waste by storing breast milk in glass Mason jars or opt for reusable breast milk storage bags.
Lanolin is great for sore nipples and has multiple uses too! You can use it for diaper irritation, chapped lips, and dry spots on your little one's skin.
The same goes for coconut oil, and both are baby-safe. Since they're multiple-use products, it's also an excellent way to reduce waste by not purchasing additional moisturizers or barrier creams.
If you plan on trying breastfeeding, you can put reusable breast pads on your registry that fit into your bra. They come in various fabrics, and you can wash them along with the rest of your laundry.
From personal experience, bamboo and hemp are the most absorbent fabrics. If you get thrush, make sure to wash them at a higher heat.
When choosing a high chair, consider minimalism and functionality. An item like the Stokke Tripp Trapp can help save space, as it can be used for many years as a regular chair too.
Toys and books
When it comes to adding toys to your baby's registry, it can be far too easy to get carried away with all the fun-looking and adorable playthings marketed to babies and toddlers. The advantage of being both minimalist and eco-friendly is that you can avoid having too much unnecessary clutter. As a general guideline, open-ended toys such as blocks, wooden trains, and art supplies have a more long-lasting "playability" factor for your child. They can often be played with for years by children for a variety of creative uses. Babies are thrilled to play with a wooden spoon from the kitchen! It can be fun to have some toys for your baby, but don't feel obliged to stash up a ton of infant toys.
It's never too early to instill a love of reading in your child. My husband and I treasure the moments we spend reading with our children. Board books are ideal for small babies and toddlers that might be prone to ripping paper, but it's also not a bad idea to stock some books in your home library for when your child is a bit older.
When looking for toys and books that are eco-friendly, minimalist, and open-ended, here are some tips that can help you narrow it down:
Look for toys crafted from natural materials such as wood, natural rubber, and well-sourced fabrics. Plastic-free toys are often made with better safety standards and are frequently more durable. Plus, then you don't have to worry about potential leaching from plastic when the baby inevitably puts the toys in their mouth.
Check if a toy requires batteries. These toys are often very "close-ended" and aren't often played with as long. They're frequently not well made, and batteries aren't great for the environment either. (As a parent, I can also add that a lot of beeping, noise-making toys might also make you a bit crazy!) 😝
Try to find toys that are fair trade. Many toys made in Europe also carry various certifications for eco-friendliness, such as Spiel Gut, GOTS, and Organic Exchange. Certifications like these can help guarantee that the workers who make the toys are laboring under fair conditions.
Some registries have the option of putting secondhand books on the list, which is a great way to be more environmentally friendly.
You can also consider adding books from publishers that use recycled paper and other recycled materials to manufacture their books.
Toiletries/first aid supplies
Whether using disposable diapers, cloth diapers or looking for items to keep on hand for diaper rash, you'll want to put some first aid and diapering supplies on your baby registry. (Consider adding some postpartum supplies to the registry as well—you deserve some TLC too, mama.) However, when it comes to this category for the registry, it can also be easy to go "overboard" and put too many things on the list that won't get used. With that in mind, here are some tips:
For items like cloth diapers and burp cloths, consider your laundry situation. Do you have a dryer, or will you hang dry your babe's clothes? How often do you want to do laundry? If you do frequent laundry and have a dryer, you might not need as many cloth diapers or burp cloths.
Watch out for "greenwashing" in the disposable diaper category. The fact is, all disposable diapers will end up in a landfill. Additionally, disposable diapers are contained in additional plastic or paper packaging that also needs to be recycled. Claims that a disposable diaper is more "eco-friendly" are often fairly meaningless. The "green" diapers may be easier on your baby's skin if they don't contain lotion, perfume, or added plastics, but it's not necessarily going to be better for the planet (and it might be much more expensive for you or your gifters). You can check a specific diaper brand's certifications (i.e. GOTS Textile Standard certification, for example), where it is being manufactured, and what ingredients are contained to learn more about it.
You can check the environmental and skin-friendly status of various baby toilets on websites like EWG. Unfortunately, many toiletry products marketed towards babies contain ingredients that can be irritating to the sensitive new skin, like perfumes. Avoid products with mineral oil, and baby powder made with talc.
Wet bags are a great eco-friendly item for your registry, even if you're not cloth diapering. You can use them to store dirty baby clothes, burp cloths, and diapers. If you take baby swimming, it's perfect for holding wet towels and bathing suits. You can even use wet bags instead of one-use plastic diaper disposal bags and empty them into the main trash when they are full.
The bottom line
All the best of luck preparing for your new bundle of joy's arrival. You've got this!

Check out our top 10 nursery themes for your baby's nursery.

Check out Poppylist's founder Sarah Hollingsworth's take on how the future of baby showers is changing.
Save now, sleep (better) later
Reserve your Cradlewise delivery month early, and save up to $600 on better sleep for the entire family.
Stay in the know
Sign up to get sleep tips, exciting product updates, and special offers right into your inbox.