Product
20 unique gifts for new parents (that they won't return for diapers!)
Justine Lorelle LoMonaco
Product
20 unique gifts for new parents (that they won't return for diapers!)
Justine Lorelle LoMonaco
Buying gifts for new parents can be tough. (After all, they've just received the best gift a person can get!) That's why we've done the hard work for you, wading through the hundreds of options to find the gifts that new parents are really dreaming about.
From relaxation-themed gifts to help take the edge off the fourth trimester to splurge-worthy gifts they'll use for years, here's what we'd love to receive this year.
Gifts for new parents to encourage rest and relaxation
1. The only convertible smart crib that can be used up to 24 months
We'd be totally remiss to not include our life-changing convertible smart crib (with a built-in monitor, auto-bounce mechanism, and sound machine) on our list! Whether you're giving Cradlewise to loved ones or treating your own family, you're investing in quality, supported sleep for babies and parents for up to 24 months. And you can virtually guarantee you'll become everyone's favorite gifter.
2. A nursing-friendly jumpsuit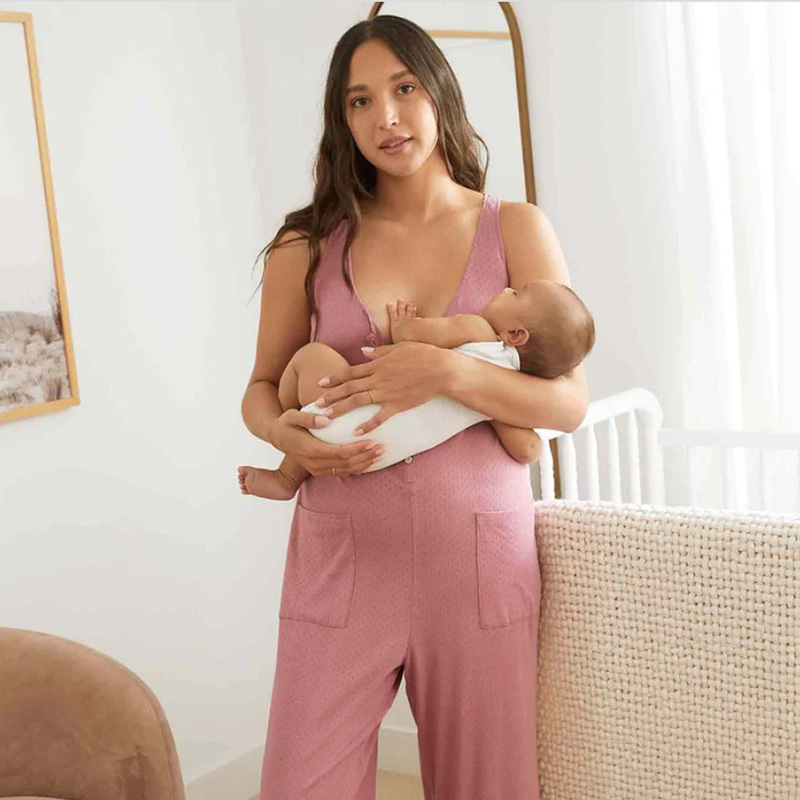 Not only is Hatch's super-soft 24/7 Feeding Jumpsuit the perfect attire for recovering and relaxing after a new baby, it's also breastfeeding-friendly! Get ready to be the gift-giver who gave mom her favorite outfit ever.
3. A sleek-looking candle with a cheeky message
Personally, we can't get enough of a cleverly named candle. And the "Parenting is Hard" Luxury Candle from Nice Stuff for Mom makes for the perfect celebratory gift. It has a 62-hour burn time and is made from non-toxic ingredients like soy wax and essential oils. It comes in five different scents and has a glossy black finish that will work with most decor.
4. A glass water bottle that's pretty and practical
One of our all-time favorite self-care gifts for a new mom is a quality water bottle like the Tronco Glass Tumbler. She'll love the look of this 20-ounce container which comes with a protective silicone sleeve, bamboo lid, and built-in straw.

Not only will it look great on her nightstand or counter, if it gets broken, it even comes with a free replacement within the first year of purchase.
5. A weighted lavender eye pillow
And for those days when they haven't gotten as much sleep as they wish they had, the relaxing Bodha Aromatherapy Eye Pillow provides the perfect relief to release facial tension and calm their tired mind—even if it's just for a few minutes.

Infused with the relaxing scents of lavender and chamomile flowers, the gently weighted pillow engages acupressure points to soften the delicate muscles around eyes.
6. A sheet set that's perfect for postpartum
If there's one thing we're serious about, it's sleep. And no one deserves the gift of a good night's rest more than a new parent! That's what makes this sheet set from Brooklinen the perfect present.

Made from a crisp and comfy percale weave, these sheets promise a cool, hotel-worthy feel without the hefty price tag.
New parent gifts they'll use for years
7. A supportive baby carrier with staying power
For parents who love to keep their little one close, a long-lasting baby carrier makes the perfect gift.

The Beluga Baby Buckle Carrier can be used until your child weighs 50 pounds (usually around age four!), meaning the recipient will get years of use as they tote their kiddo on errands, vacations, and every adventure in between.
8. A mug that never goes cold
When it comes to devices worth the investment, the Ember Mug² Temperature Control Smart Mug definitely fits the bill if you're shopping for coffee or tea lovers.

How it works: The mug syncs with a smartphone app to set the temperature and LED light preferences, and their drink stays hot for up to 90 minutes—no more constant trips to and from the microwave.
9. A chic, convertible high chair
Another big-ticket baby gear item any new parent would love to receive? The gorgeous, convertible Chair from Lalo.

Not only is the high chair configuration streamlined and easy to clean, it can be modified into a booster seat and then a modern-looking play chair for years of use. (And the play chair supports up to 200 pounds, so older kids and some adults might be able to get in on the fun, too.)
10. A high-quality stroller
While the UppaBaby Vista V2 is definitely a splurge, you can't deny thousands of 5-star reviews across the internet.

Uniquely designed to adapt to growing families, the frame can accommodate up to three children in a variety of different configurations that might include an infant car seat, infant bassinet, toddler seat, extra rumble seat, and piggyback (standing) board.
Baby-related gifts for new parents
11. A do-it-all diaper bag that converts to a travel bassinet
Are your favorite new parents eager to jump back into travel? The Kabaqoo Diaper Bag Backpack has lots of bells and whistles, but the built-in travel bassinet, which is perfect for naps on the go, might be our favorite feature.

The lightweight backpack design comes fully equipped with 15 compartments, a built-in USB charging port and cable, and hooks for hanging on your stroller.

Their new-parent packing list just got a whole lot lighter.
12. A cozy, gender-neutral gift set
The Unboxme Care Package comes beautifully packaged (hello, easy wrapping!) with everything a new mom and baby need to feel your love—no matter how far away you live.

The box includes a tin of organic herbal tea and luxe cloud-soft socks for mom, plus genuine leather moccasins, an organic cotton swaddle, and a handmade baby rattle for the little one.

The gift also comes with a greeting card, which helps make it feel more personal.
13. A stylish teething necklace
We know: You never thought you'd see "stylish" and "teething necklace" in the same sentence.

But the Harmony Teething Necklace from Anjie + Ash is pretty enough that we'd wear it even if we didn't have a teething baby in tow, and the new parent in your life will appreciate you protecting other pieces of jewelry from baby's little hands.

Browse the entire collection—you're bound to find a piece that suits your recipient's style.
14. A tasteful baby keepsake box
From first sonogram pictures to first teeth, it can be a struggle for new parents to hold on to every memento of their baby's life.

That's what we love about the comprehensive, well-designed Vault Baby Keepsake Box. It uses a series of special compartments and envelopes (all seamlessly kept in a sleek, fabric-wrapped box) to help new parents store every special moment of their little one's first few years.

And, more importantly, it makes it easy to share those memories with their child for years to come.
15. A pair of cool Dad + baby shirts
A nice departure from the many flowery "Mommy and me" outfits on the market, these minimalist "Dada & Baby" shirts from LJ Clothing Company are the perfect gift for a new dad who's proud to twin with their little one.

For a more personalized look, you can customize both the shirt and font colors. This Georgia-based Etsy seller also offers shirts for other family members like aunts, uncles, and grandparents.
Sentimental gifts for new parents (cue the awws)
16. A cute sweatshirt with her new title
This cozy Ford & Wyatt Mama Sweatshirt lets a new mom flaunt her status. It's made from cuddly cotton French terry and is garment-dyed and enzyme-washed for maximum softness.

The innovative printing process keeps the ink smooth wash after wash, making it a gift she'll reach for almost every day.
17. A cool trucker hat
You know dads also want to show off their new names. That's why we love Aspen & Company's stylish, gray-meets-khaki Flatbill Trucker Hat, which is perfect for feeling pulled together on a diaper run or a stroll around the block. 
18. An engravable bracelet set
Capture a special date or message the new mom in your life will never forget with Eve's Addiction Mom & Baby Engravable Bracelet Set.

It comes in rose gold, gold, or silver, and can be personalized with a custom message. The classic design is easy to wear with any style, and the baby bracelet will become an instant keepsake.
19. A mini movie projector
Upgrade how they view photos and videos of their little one with the pint-size Porto Projector.

The easy-to-use HDMI gadget comes in five colors and connects seamlessly with a variety of different devices (think mobile phones, laptops, televisions, Roku, and more), so it can also help them create cozy, at-home movie date nights.
20. A custom family portrait
Turn their favorite family memory into a forever piece of art with a Fairlight Collective Custom Photo Illustration. Not only will they love their one-of-a-kind piece of art–they'll think of you whenever they admire it.
Check out Poppylist's founder Sarah Hollingsworth's take on how the future of baby showers is changing and her list of top 10 postpartum gifts for new moms.
Save now, sleep (better) later
Reserve your Cradlewise delivery month early, and save up to $600 on better sleep for the entire family.
Stay in the know
Sign up to get sleep tips, exciting product updates, and special offers right into your inbox.