Product
Top 10 postpartum gifts for the new mom
Sarah Hollingsworth
Product
Top 10 postpartum gifts for the new mom
Sarah Hollingsworth
What is the definition of postpartum [post·par·tum]? It's the immediate period following childbirth, with no official deadline post-birth. The word comes from the Latin phrase postpartum "after childbirth," from post "after" + partum, "act of giving birth, childbirth," from "to give birth to, bring into being."
Can we pause there for just a moment?
Bring into being. Isn't this phrase beautiful? How does this phrase make you feel?
"It feels like we're bringing both the baby and the new mother into being. Both people are unknown. Our prior selves have forever changed, and our physical bodies are different. It's a new beginning for both. How beautiful is this?" says Sarah Hollingsworth, Founder of Poppylist.
What's even more beautiful is that women are beginning to see the range of choices they have during pregnancy and birth, but the journey isn't over when the baby arrives. It's our responsibility as two predominant companies in the parenting and baby industry to keep having this discussion for birthing people everywhere.
By bringing our attention back to the importance of the postpartum period, bringing this back into being for new mothers, we can help create a safe, accepted, and celebrated space for this critical recovery period.
"Newborns need care, but so do new mamas. Becoming a mother is always a transformative experience—whether it's your first or fourth child. While we tend to shower the bundle of joy with tender loving care, it's easy to overlook the parent's needs during what can be a very humbling and challenging transition. Providing support and encouragement—even if it's offering to watch their newborn so they can take a nap or hot shower alone—makes all the difference in the world," says Stefania Sainato, the VP of Content + Community at Cradlewise.
Sarah and Stefania speak with moms daily, and they've compiled a list of the top 10 postpartum gifts that you can send to new mothers to aid and celebrate their fourth-trimester recovery.
A Custom Self-Care Basket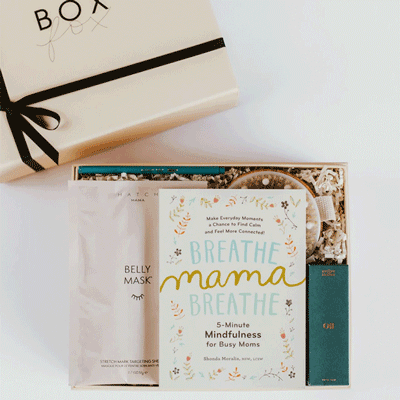 She may not need more baby items, but that doesn't mean you can't shower her with self-care essentials. Build a custom gift basket full of things just for mom. Here are some suggestions to get you started: Audible gift card, skincare products, chocolate bars, athleisure clothing gift card, bath salts, mushroom coffee/hot cacao, new water bottle, etc. The trick is to think about her hobbies and what she loved before the baby (e.g., reading = audible gift card, health + wellness = hot mushroom cacao). Don't have time to build your own? Consider creating a custom box from one of these beloved Poppylist and Cradlewise recommended companies: Shop Box Fox offers Ready-to-Ship boxes, perfect for the new parent. We recommend the following packages: Coffee, New Mom, or Heal. Or, send some Restorative Tea from It's Bodily that helps nourish and support the body during recovery
Nursing Pillow
Send her the gift of the new breast friend she didn't know she needed, the original nursing posture pillow with a washable, organic cotton slipcover in cream, here.
"The My Brest Friend Nursing Pillow was a godsend with both of my children. Firmer than other breastfeeding pillows, the wraparound design helps to support your back and prevents your little one from sliding between your stomach and the pillow. I used the side pocket to stash a water bottle or snacks for nourishment," Stefania says.
Nightgown and Robe Set
Comfort essentials like robes and cozy socks are a must during the postpartum period. Opt for a two-for-one set for maximum longevity long after their hospital stay is over. Made from buttery-soft fabric and featuring pretty lace detailing, this Nightgown and Robe is a standout. With easy clip-down access for feeding their new bundle of joy, it's just as functional as it is feminine. For something truly splurge-worthy, consider the HATCH-to-Hospital Kit. It's filled with little maternity luxuries, including a nightgown, robe, and undies—all made of organic bamboo —and socks made in Italy.
All-in-One Smart Crib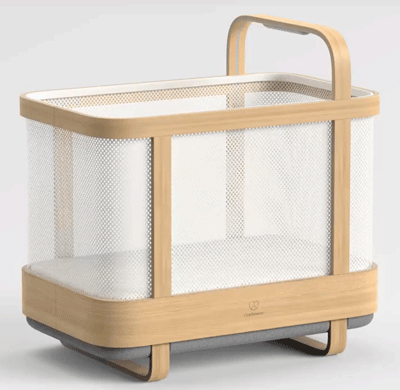 Cradlewise is the crib we wish we would have had when we first became parents. Comprising a smart bassinet, mini crib, integrated baby monitor, and white noise machine, it's the ultimate all-in-one solution for helping families get better sleep. When the baby stirs, it automatically responds with gentle motion and white noise, creating a soothing environment in which they can continue to sleep. In turn, this ensures the baby and parents both get higher-quality Zzs. It also aids in mama's recovery, so she doesn't have to physically overexert herself by taking her baby in and out of the crib ten times a night and manually rocking them until they fall asleep.
Pamela Marie Hobby shares her experience using Cradlewise with her son, Buster. "From day one, you realize the design will move and shift with whatever you might be going through as a new parent. As a first-time mom, the crib gave me this peace of mind in thinking I had an extra set of hands," Pamela says. Read more about her postpartum journey.
And once those hazy newborn days have passed, parents can rest easy knowing that Cradlewise is still there to support them as their child grows until they reach their second birthday.
Virtual Maternal Care Gift Card
By purchasing a $124 gift card to Ruth Health, you can now bring high-quality, evidence-based pregnancy care directly to the new mom (and on her own schedule). Let her select between a virtual lactation consultant, c-section recovery, or pelvic-floor therapy. This is one of the best ways you can encourage the new mom to prioritize her maternal wellness recovery well beyond birth.
Offer to Do Chores or Run Errands (or Pay for Similar Service)
Some of the most helpful acts of service have nothing to do with holding babies or making food. Instead, they look like laundry, doing dishes, or running errands. These tasks add to the invisible load of motherhood, weighing on a new mom's mind until she's up vacuuming the house instead of napping. Take some of that load off by either doing one of the chores, hiring someone else to (think house cleaners), or asking "What can I get you on my next Target/grocery run."
Spa Day Pampering Kit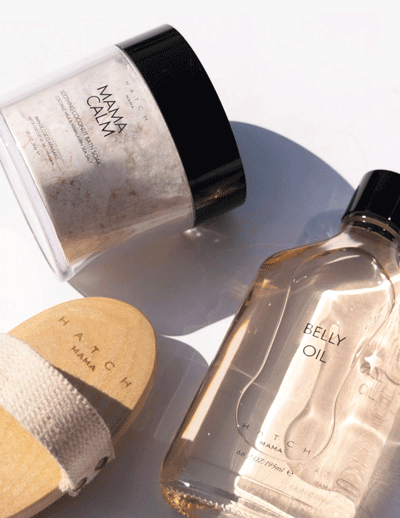 Self-care is of the essence (and not always attainable) in the postpartum period, so bring it directly to her bathroom with the gift of a soothing bath set from Hatch for when she needs a quick zen state of mind. Two other kits to consider: The Care for Birth Kit or the C-Kit from Its Bodily.
Prepare Nourishing Food (or Pay for Food Deliveries)
Taking care of an infant while preparing healthy food can feel impossible. Make it easy by dropping off (I mean drop-off, leave food at the door) and nourishing the whole family. In the early postpartum period, foods high in protein and healthy fats are ideal (e.g., soups/stews made with bone broth, casseroles with high-quality animal protein, easy grab-and-go snacks like oat/date rolls, etc.) If you don't have the time to cook, you can order delivery for them or send a food delivery gift card.
Another option we love is the incredibly thoughtful New Parent Care Package from the aptly named Spoonful of Comfort. It comes with nourishing soup (choose from chicken noodle, tomato basil, chicken and wild rice, broccoli cheddar, and more), plus a half dozen rolls and cookies (after all, what postpartum meal would be complete without carbs?).
"I'll never forget the feeling of opening this care package gifted to me by my old coworkers. It had been a long and emotionally exhausting day visiting my newborn daughter in the hospital NICU. I immediately burst into tears when I saw dinner had been taken care of," Stefania says.
Plus, here are some great snack options to send via Amazon:
Hydrating Hand Sanitizer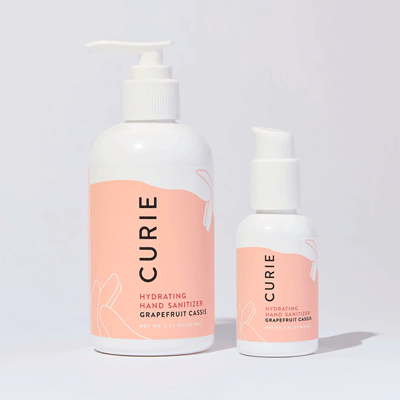 It's a simple gift, but one the new mom might forget about: The Super Sanitizer Set by Curie. If anyone is going to touch the baby, we want them to have clean hands. So here's some hand sanitizer, but better. Made with hyaluronic acid, prickly pear seed oil, and glycerin — and without parabens or phthalates — their clean and effective 70% ethyl alcohol hand sanitizer kills 99.9% of germs as it moisturizes. Our favorite scent? Grapefruit Cassis.
Spa Day Pampering Kit
Self-care is of the essence (and not always attainable) in the postpartum period, so bring it directly to her bathroom with the gift of a soothing bath set from Hatch for when she needs a quick zen state of mind.
Simple and Modern Water Bottle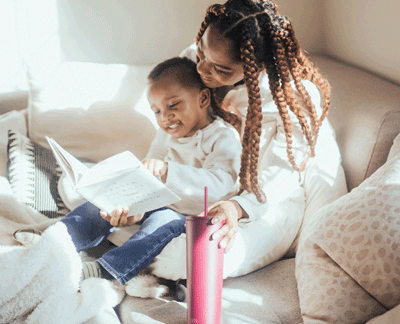 Did you know, according to Amber Frauenholtz, Nutritional Therapy Practitioner and Integrative Nutrition Health Coach, new mothers producing breast milk should drink half their body weight *per day* in water? This is one reason we love the affordable Simple Modern tumblers. They're double-walled and vacuum insulated, which keeps your favorite beverage hot or cold for hours. Perfect for hydration on the go or while you're pumping/nursing. You can buy her more than one to keep in multiple rooms!
More About Poppylist: Poppylist was created by two parents who didn't want more stuff, but the right stuff. With product recommendations powered by parents and one-stop shopping for gift-givers, Poppylist has simplified the baby registry experience for everyone. Learn more or start your Poppylist baby registry today.
Check out Poppylist's founder Sarah Hollingsworth's take on how the future of baby showers is changing.
Save now, sleep (better) later
Reserve your Cradlewise delivery month early, and save up to $600 on better sleep for the entire family.
Stay in the know
Sign up to get sleep tips, exciting product updates, and special offers right into your inbox.