Product
The grow-with-you crib that Mother Earth would approve
By Cradlewise Staff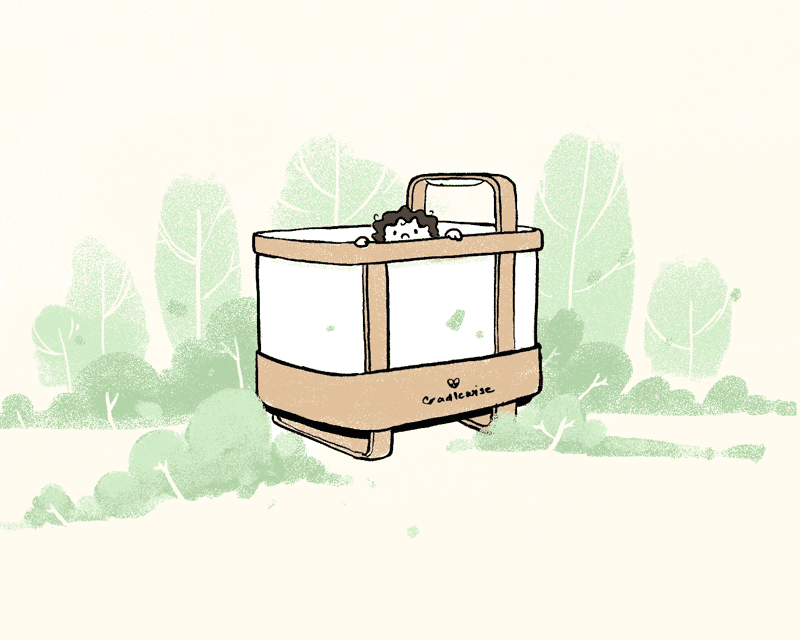 Product
The grow-with-you crib that Mother Earth would approve
By Cradlewise Staff
You probably know that newborn babies spend 14-17 hours snoozing in their cribs. Their crib remains a place where they will grow, rest, and play throughout toddlerhood as well. Naturally, you want their new home to be safe, non-toxic, and sustainable.
We also want our future generation to grow up on a healthy planet. Knowing that the products you are using for your little one are safe for the environment, will also give you peace of mind. 🌎
While making our crib, we use eco-friendly and sustainable materials for your baby and Mother Earth. Here are some things that we took care of:
GREENGUARD Gold certification
We are conscious of your baby's health, from helping them sleep well to being mindful of the air they breathe. That's why our smart crib is GREENGUARD Gold certified. But what does this really mean and why is it an important differentiator?
All furniture materials give off some chemical emissions. These chemicals are called volatile organic compounds or VOCs. They get mixed with the indoor air that we breathe in our homes. The materials that we used to make the crib—the wood, the crib frames, the plastics, etc.—also give off some chemical emissions.
Although VOCs are not dangerous in small amounts for adults, babies and toddlers are way more sensitive to indoor air quality because they have smaller bodies and breathe a higher proportion of air than adults. This means that even if there are relatively smaller amounts of VOCs mixed in your indoor air, kids will inhale more of it than you will.
GREENGUARD Gold certification means that our crib has been tested and scientifically proven to have low chemical emissions. This keeps your indoor air clean, making it healthy for your little one and keeping the environment safe from chemical emissions.
GREENGUARD Gold-certified sheets
All the time your baby spends in their crib, they are snugly sleeping on the crib sheets, which are also GREENGUARD Gold certified. This ensures that your baby's skin is safe from any harmful chemicals.
Tip: Air-dry the sheets and mattress cover, as they might shrink in the dryer.
Biodegradable mattress
Most baby beds are made using PU foam, which is non-biodegradable and can't be recycled. Our mattress is made of coconut coir—an eco-friendly material that is biodegradable and free of VOCs.
This ensures that the surface that you put your baby to sleep on at night is safe for them and the planet. ♻️ Since the mattress is made of coconut coir, it can't be washed. Learn more about how to clean your crib.
Eco-friendly plywood
We use molded plywood in our crib, along with Eucalyptus wood and oak wood. Plywood is one of the most sustainable materials—it lasts for a long time, cuts back on deforestation, and can be recycled. But most plywoods use a formaldehyde adhesive that contains VOCs.
However, we use a water-based finish and E0-type glue to apply the wood to the molded plywood. Both the glue and the finish are VOC-free and are GREENGUARD Gold certified—meaning that they don't emit chemicals that will mix with the indoor air and harm your baby.
Plus, the wood finishes we use are free from lead and phthalate so you don't have to worry if your baby chews on the crib the second you turn your back (because we know they will put anything and everything in their mouth!).
Grows with your baby
Baby beds have a limited usage period. After your little one graduates from sleeping in their bassinet, there's a small chance that you'd use it again. If not recycled or handed down, the older products often end up in a landfill.
Our smart crib grows with your baby and solves this problem. It can be used up to two years of age. So as your child grows, you can convert their smart bassinet to a crib—no need to buy a new bed for them.
Minimal plastic materials
Unlike organic materials, single-use plastics never go away. Over time, they break down into smaller particles called microplastics, releasing toxic chemicals into the environment. Eventually, these microplastics end up in our oceans, where they enter the food chain when fishes consume them.
These tiny pieces of harmful plastics have now started making their way back to us through our food as scientists have now found these microplastics in human blood.
We use very few plastic materials in our cribs. Only the monitor cover and the USB cover in our crib are made of plastics. We use ABS and PP plastics, which have high recyclable ratings.
Did you know?
ABS plastics do not burn. On heating, they turn to liquid and can be remolded again, which makes them super recyclable. Similarly, PP plastics are also highly adaptable and can be recycled into a number of products ranging from clothing fibers to kitchenware.
ABS plastics do not burn. On heating, they turn to liquid and can be remolded again, which makes them super recyclable. Similarly, PP plastics are also highly adaptable and can be recycled into a number of products ranging from clothing fibers to kitchenware.
We are reducing the amount of packaging and will eventually move to 100 percent recyclable corrugate packaging.
CP65 certification: using better materials for baby + environment
The California Proposition 65 certification requires companies operating in California to explicitly warn their consumers if their product has a harmful substance.
The CP65 list contains over 1,000 chemicals (both natural and synthetic) that can cause cancer and congenital disabilities along with other reproductive harm. Some furniture uses the chemicals listed in the CP65 list, which are harmful to people as these chemicals can be gradually released from the furniture and into the air that they breathe.
We have tested our smart crib and it doesn't have any chemicals that are listed in the CP65 list.
The bottom line
We take care of your baby's sleep but we also make sure that the air they breathe is free of any harmful chemicals (Hello, GREENGUARD Gold certification!) From using recyclable materials to ensuring that there are no harmful chemicals used in the finishes and glue, we've thought of all the details to keep your little one safe from any toxins.
Learn more about your Cradlewise:
Save now, sleep (better) later
Reserve your Cradlewise delivery month early, and save up to $600 on better sleep for the entire family.
Stay in the know
Sign up to get sleep tips, exciting product updates, and special offers right into your inbox.