Product
The top 10 Cradlewise features that help parents (and babies) get better sleep
By Cradlewise Staff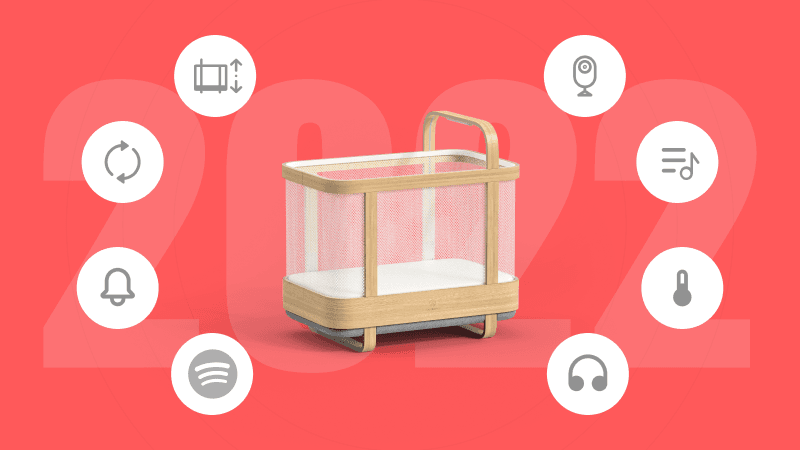 Product
The top 10 Cradlewise features that help parents (and babies) get better sleep
By Cradlewise Staff
We know that parenting is a full-time job, and as much joy as it gives you, it can also leave you sleep-deprived and exhausted in the early days. When you're well-rested, you're able to spend better quality time with your little one with energy for everything else as well.
As a company created by parents, for parents, it's been our mission to help babies and families get better sleep. And on that mission, we've launched some exciting new features.
Here are our top 10 features that have made caring for your little one, keeping an eye on them, and ensuring they get the best possible sleep a little easier.
1. Gesture controls
As a parent, you don't want to juggle putting your baby in their crib while holding your mobile phone to start or stop the crib.
Gesture controls allow you to turn bounce on and off through the monitor arc on your Cradlewise smart crib. The biggest relief that this feature brings parents is being able to be hands-free when putting their little one in the crib, without having to use your phone or Cradlewise app.
2. Spotify
Our Spotify integration feature lets you turn your cradle into a speaker, enabling you to pair your crib with the Spotify app.📣

Now you can curate a Spotify playlist for your baby and play them your favorite pop songs, lullabies, nursery rhymes, soothing sounds, or whatever they're into.

Do they have a song that immediately calms them when they're about to cry? If you see them fussing on the monitor, you can now play their jam from the kitchen or your office, wherever you are.
3. Custom sleep tracks
Our crib's built-in sound machine gives you more options than a traditional white noise machine. With our new feature, you can customize white, pink, and brown noise sleep tracks by adding layers of different sounds, like heartbeat, wind, and rain, personalizing them to your little one's preferences.
4. Dark mode
This is one of our most requested features that we finally got to launch this year. Dark mode is now available in the Cradlewise app!

Dark mode reduces the brightness level on your phone, and it's a game changer for minimizing light disruptions at night, including those 3 a.m. wakeups when you're nursing or trying to soothe your baby back to sleep.
As your baby grows, they'll start moving around more in their sleep. With the camera flip feature in our app, you can get a clear view of your baby no matter which side of the cradle they're closest to. Rest easy knowing that you can keep an eye on your little one, anywhere in their crib.
6. Sensitivity controls
Our crib sensitivity feature determines how quickly and how often your Cradlewise responds to sleep disturbances. It controls the point at which the crib auto-soothes based on your baby's activity level. You can adjust the crib's sensitivity from low to high as your baby's needs change.

We suggest keeping it higher during the first six months because infants move around a lot and may startle themselves awake. We recommend moving to the lower sensitivity once your baby is sleeping more regularly through the night. And as your baby grows older, you can teach them to self-soothe by gradually dialing down the crib sensitivity.
7. Remote streaming
This feature lets you control the cradle's motion and sound settings from anywhere, including your bed. It also gives you the peace of mind of keeping an eye on your baby even when you can't be in the room with them. It allows you to monitor your little one's live video from anywhere, anytime.
8. Audio monitoring
With this feature, get airplay and a choice of sound output on your Cradlewise app. Now even when you're at work or away from your baby, you can hear their sweet coos and gurgles any time.
9. Sleep insights
We introduced advanced sleep insights for your baby that'll help you track your baby's sleep patterns. Keep track of how long your baby slept in the last day, week, and month.
10. Notifications
Get notified when your little one stirs, falls asleep, or needs your attention. With these little reminders, we hope to keep you updated on your baby's day-to-day needs as well as exciting milestones.
More posts you might like:
Save now, sleep (better) later
Reserve your Cradlewise delivery month early, and save up to $600 on better sleep for the entire family.
Stay in the know
Sign up to get sleep tips, exciting product updates, and special offers right into your inbox.