Parenting
20 children's books for Black History Month to read all year long
Christina Montoya Fiedler
Parenting
20 children's books for Black History Month to read all year long
Christina Montoya Fiedler
Reading can be one of parenthood's greatest joys. There are few things better in life than snuggling up with a child and flipping through the pages of a favorite book.
In honor of Black History Month, we chose 20 children's books that are sure to be welcomed additions to your home library (and the Black-owned bookstores where you can buy them). They can be read all year long and at any age because it's never too soon to talk about diversity.
From biographies and true stories to cultural tales and poems, there are tons of books here to help celebrate the contributions and culture of the Black community.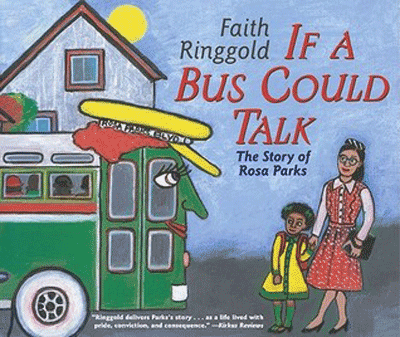 This is the story of how one woman's actions became the cornerstone of the Civil Rights Movement in the United States. It is the recipient of the Caldecott Honor Award and Coretta Scott King Award for its representation of historical facts and unique perspectives about African American culture.
This is the inspirational story of Fredrick Douglas, who spent his life advocating for the equality of all. The biographical book highlights how Douglas' love for reading helped him stand up for himself and those around him.
Discover the uplifting prose of orator and preacher Sojourner Truth, an iconic figure of the abolitionist and women's rights movements. Not only is the book beautifully illustrated, but it's also impeccably researched by historians of that period.
Henry "Box" Brown was a young enslaved person who mailed himself to the North to become free. With the help of abolitionists, including Harriett Tubman and the underground railroad, Henry makes it to his destination, and the rest is history.
Eight-year-old Connie knows that life is not equal for those who look like her. There are signs all over her city that tell her where she can eat and drink. But, when she sees young men taking a stand for equal rights by sitting at the Woolworth's counter for lunch, she knows things are about to change.
Mae Among the Stars is inspired by the true story of the first African American woman to travel into space, Mae Jemison. The lesson learned? If you dream big, anything is possible.
This debut children's book from voting rights activist Stacy Abrams tells the story of a young girl chosen to represent her school at the state spelling bee contest. But whether she wins or loses, Stacy will learn the most important word of all—perseverance.
Martin Luther King Jr. is arguably the most iconic figure of the Civil Rights movement, and this book tells his story in an easy-to-understand format for young children. The book focuses on personal traits and historical facts that made MLK the great leader that he was.
Young readers will learn about African American culture and history in this read-aloud book one letter at a time. Some letters are for ideas (P is for Power, S is for Science and Soul), while others are for historical figures (X is for Malcolm X, W is for W. E. B. Du Bois). If you want to read more about the people and issues mentioned, there's a handy index at the end of the book that sheds more light on each one.
This beautifully illustrated board book by award-winning author, Vashti Harrison, tells the true stories of Black men in history: artist Aaron Douglas, civil rights leader John Lewis, dancer Alvin Ailey, lawman Bass Reeves, tennis champion Arthur Ashe, and writer James Baldwin.
This Jazz Man 
This Jazz Man takes the tune of "This Old Man" and turns it on its head by introducing young readers to some of Jazz's most influential musicians, including Charles Mingus, Louis Armstrong, Duke Ellington, Charlie Parker, and more.
Bedtime Bonnet 
Celebrate Black nighttime hair traditions shared between mother and daughter in this joyous picture book. The little girl in the story can't find her bonnet before bedtime, and the hunt ensues for this very important item.
If Bedtime Bonnet celebrates hair traditions for mother and daughter, Bippity Bop Barber Shop does the same for father and son. When a young boy, Miles, takes his first trip to the barbershop, he learns about his unique African American identity.
This famous poem from award-winning poet laureate Maya Angelou is brought to life with drawings from Haitian American artist Jean Michel Basquiat. Life Doesn't Frighten Me celebrates courage, strength, and fearlessness, and it's still just as relevant today as it was when it was written nearly 30 years ago.
We March tells the story about the 1963 March on Washington for Jobs and Freedom, where 250,000 people gathered in the nation's capital. The March started at the National Monument and ended at the Lincoln Memorial, where Martin Luther King Jr. gave his historic "I Have a Dream" speech and marked a pivotal moment in the Civil Rights Movement. The thrill of the day is palpable through the author's words, even for the youngest of readers.
Three well-known spirituals are brought to life through vivid illustrations: "This Little Light of Mine," "When the Saints Go Marching In," and "He's Got the Whole World in His Hands." Information about the song's histories and musical notations are included for each. The large format and bright, jewel-toned colors make it especially eye-catching for young children.
Six-year-old Ruby Bridges made history by being the first African American to attend an all-white school during the height of segregation in the United States. With a powerful narrative and captivating illustrations, children will learn the true meaning of bravery.
Learn about Dorothy Vaughan, one of NASA's first African American managers and one of the groundbreakers on the front line of electronic computing. The full-color picture book biography also includes a hands-on introduction to coding, great for when your young reader gets older.
Follow the Drinking Gourd is a folktale about a white sailor who taught enslaved people to follow the drinking gourd (the Big Dipper) north to escape slavery. The story is the perfect introduction to the Underground Railroad and abolitionism concepts.
The Nutcracker in Harlem is a jazz-inspired retelling of the classic Christmas tale. The story takes place at the height of the Harlem Renaissance as a young girl finds her voice to become the musician she was always meant to be.
Check out:
Stay in the know
Sign up to get sleep tips, exciting product updates, and special offers right into your inbox.