Product
10 nursery themes you're going to start seeing everywhere
By Cradlewise Staff
Product
10 nursery themes you're going to start seeing everywhere
By Cradlewise Staff
Are you looking for inspiration on how to decorate your nursery this year? The styles look wildly different from what we have been seeing for the last decade. After years of minimal-themed nurseries and decor, today's nursery designs have become personality-packed rooms where parents take advantage of the opportunity to embrace color, whimsy, plentiful details, and lots of personalization.
Here are nine trends we've seen sweeping nursery decor inspiration this year―plus tips on how to make them your own.
1. Pattern wallpaper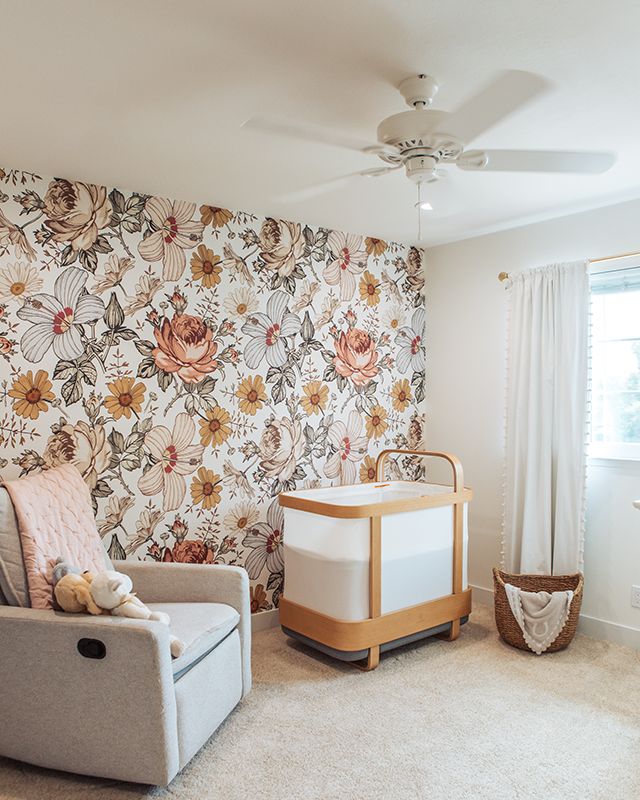 Speaking of wallpaper, it's everywhere you look in nursery decor right now. From playful to prim, there's a style, pattern, and texture to suit any decor direction. Working with a budget? Prioritize your dollars by only wallpapering a single statement wall, like the one behind the crib or the changing table.
Tip: Nervous about papering a whole wall? Order samples of a favorite wallpaper to frame in a gallery wall for delightful pops of pattern.
2. Dedicated play and toy areas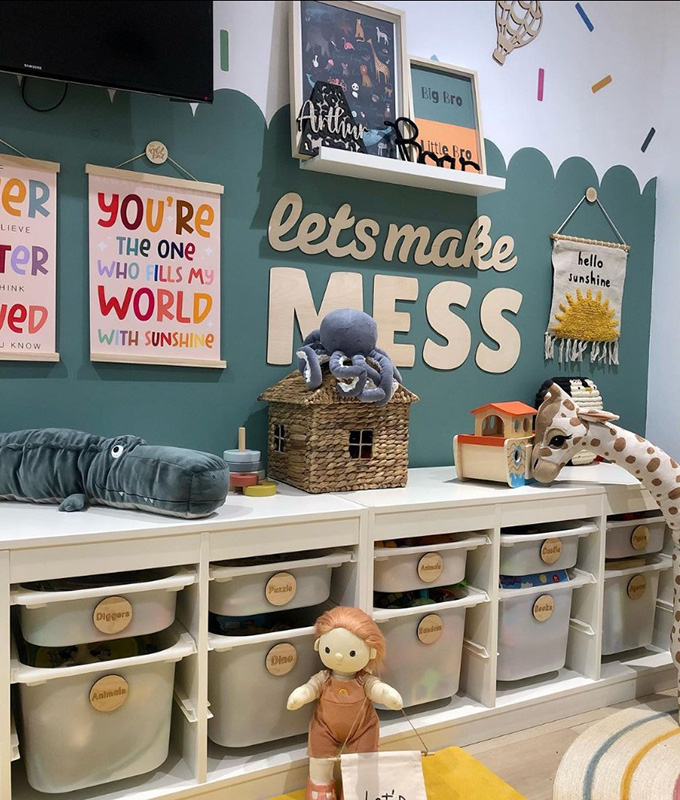 Another trending nursery idea is one that savvy preschool teachers have known about for decades: Creating well-organized stations for imaginative, open-ended play. From blocks to cars to toy kitchens, the themes are only limited by your child's interests and imagination.
Tip: Make it last by storing toys in child-accessible bins and shelves that cut down on clutter–you can even turn your favorite toys into decor by displaying them on shelves or on top of your storage units. We can't guarantee this approach will prevent toys from getting spread over the rest of your home, but it is a great way to start teaching little ones to help themselves (and maybe even clean up on their own!).
3. A hanging canopy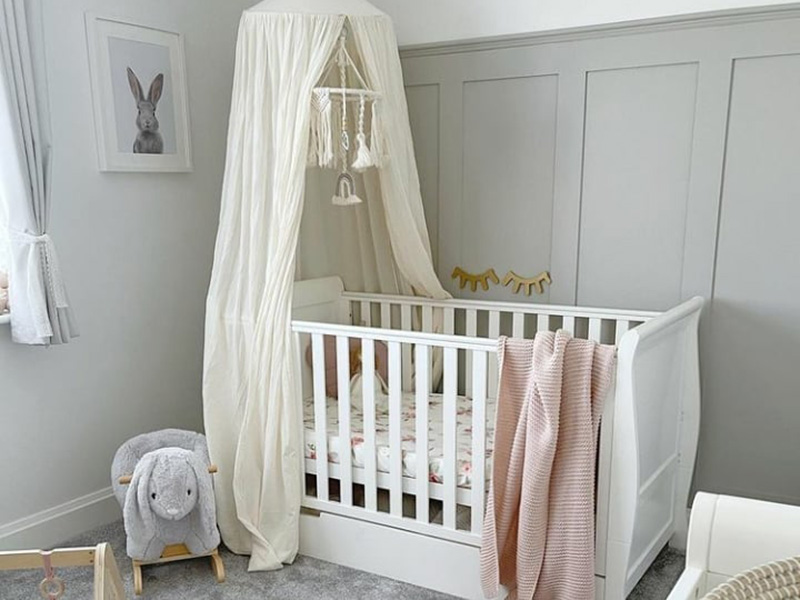 Nothing adds a bit of romance to a baby's nursery like a canopy. The latest looks have them draped over cribs (just remember to be safe and remove them when your baby is able to pull themselves up) or hanging in corners to create cozy nooks for play and reading time.
The best part? These whimsical decor pieces can be repurposed as your child grows, and will look lovely hanging over a regular bed down the line.
Tip: Add a few string lights or a pom-pom garland for the ultimate dreamy look.
4. European-inspired nursery themes
Pulling inspiration from traditional Parisian apartments and a nursery you might spot in Peter Pan's London, this nursery trend often involves antique furniture pieces and minuscule, overlapping prints.
The design leaves plenty of room for personalization and details that babies love discovering as they get older, like vintage-inspired toys displayed on shelves; playful, animal-shaped brass hooks and curtain pulls; and framed pages from beloved childhood books that have stood the test of time.
Tip: Just remember to make sure any antique pieces are safe for little ones (and that any older furniture pieces have been refinished with child-safe paints and finishes), or keep them well out of reach of curious little hands.
5. A display closet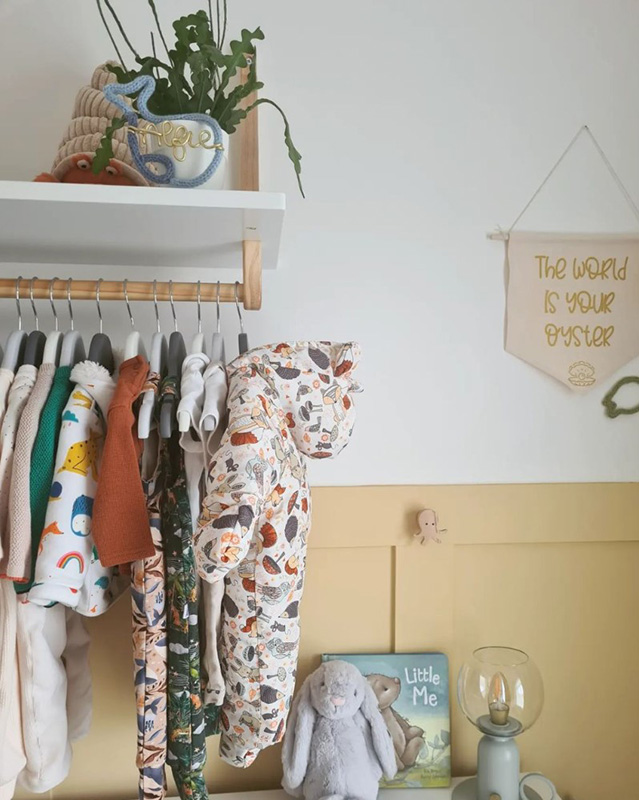 If you're like us, it always felt like a shame to tuck those adorable baby clothes away into drawers or a closet. (Especially since they often only get worn a few times!) That's why we're loving this trend of open nursery closets, which are also ideal for a baby's room without built-in storage.
Keep your little one's whole wardrobe on display with a freestanding clothing rack, or stick to one or two favorite pieces hanging from pegs over the changing table. The best part? You can easily swap out styles to suit the room's color scheme and aesthetic as your baby grows up.
6. DIY board and batten wall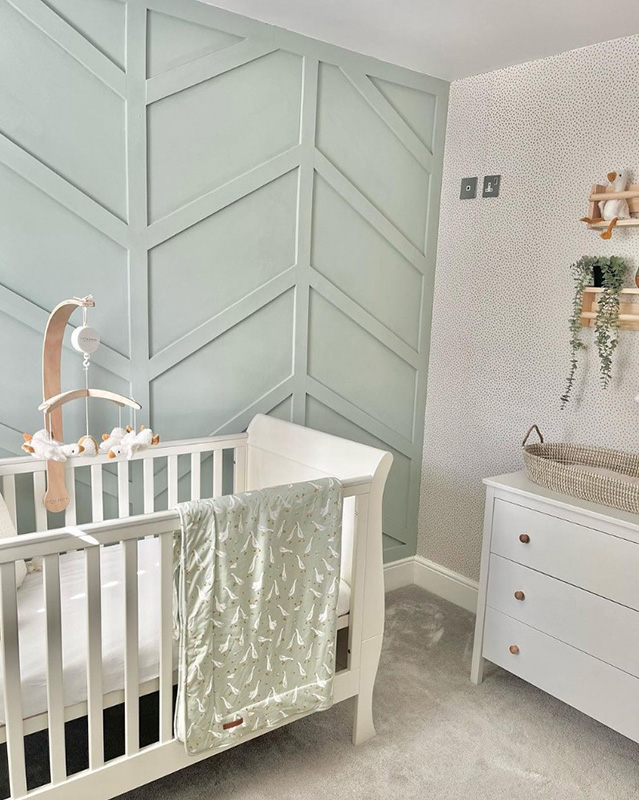 Whether it's a simple chair rail or a full-on statement wall, geometric molding and faux shiplap is a hot trend in nursery decor. Perfect for families that want to add a bit more excitement to builder-grade rooms, installing board and batten is also often less expensive (and easier to transform later on) than wallpaper.
And the best part? It's much easier to do it yourself than you might think. Check YouTube and Pinterest for DIY tutorials, like this one!
7. Dark, moody color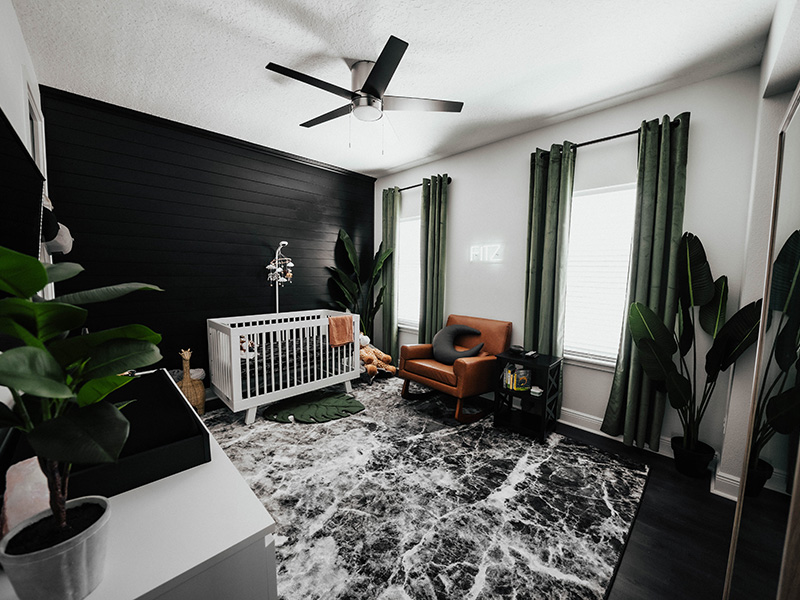 The days of pastel-only nurseries are long over in today's modern baby rooms. Instead, parents are splashing out with rich black, dark blue paint colors, and dark green paint colors (think navy and forest green), bringing a sophisticated feel to the bedrooms of their littlest members.
Tip: Keep the look from feeling overwhelming by pairing it with light or neutral furniture and floor coverings, or with wall decor such as white picture frames that will pop against the dark background.
8. Floor-to-ceiling color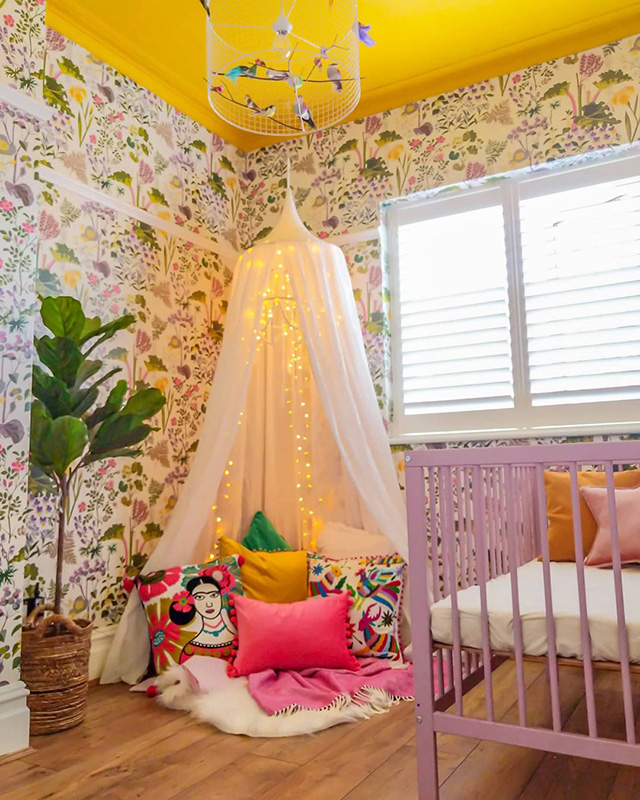 Those grown-up colors we mentioned? They're going so much further than just the nursery walls. More and more families are taking paint (and even wallpaper) to new heights, covering their nursery ceilings with eye-catching color.
Contrary to popular belief, this technique actually makes rooms feel bigger, not smaller, because the walls seem to extend in your mind's eye. And did we mention it looks totally gorgeous, too?
9. Coastal grandmother aesthetic
Coastal grandma style isn't only infiltrating your wardrobe these days. We've also loved seeing this aesthetic in decor, where the breezy, light look lends a sophisticated-yet-relaxed vibe to any nursery.
Mixing in details like rattan furniture, beachy colors, and washed-out patterns will have you dreaming of salt water and the great outdoors, no matter where you live.
10. Jungle-themed nursery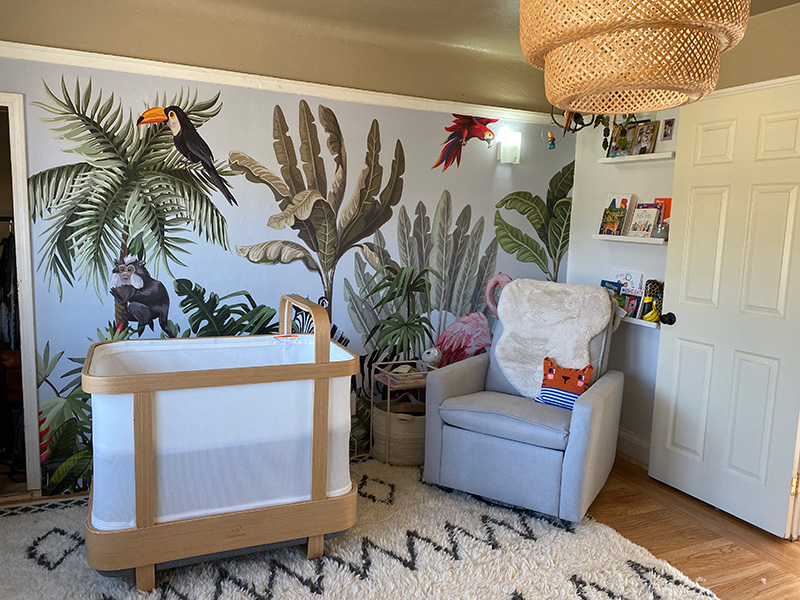 If the idea of a jungle-themed nursery fills your head with images of the pastel elephants and tigers you might remember from your own childhood, think again.
Far from cutesy, today's grown-up version looks more inspired by Henri Rousseau or your favorite botanical garden. Make your own verdant statement by displaying a stunning wall mural like the one shown here, or by decorating the nursery with natural finishes (like rattan light fixtures and natural wood furniture) and as much greenery as you can.
Tip: Can't handle caring for yet another living thing? We love the stylish, low-maintenance artificial plants that are everywhere right now. Many are inexpensive, and they're also much less likely to be destroyed or eaten by the wild toddlers living in your jungle.
Check out:
Save now, sleep (better) later
Reserve your Cradlewise delivery month early, and save up to $600 on better sleep for the entire family.
Stay in the know
Sign up to get sleep tips, exciting product updates, and special offers right into your inbox.