Product
15 questions all new Cradlewise parents ask
Cradlewise Staff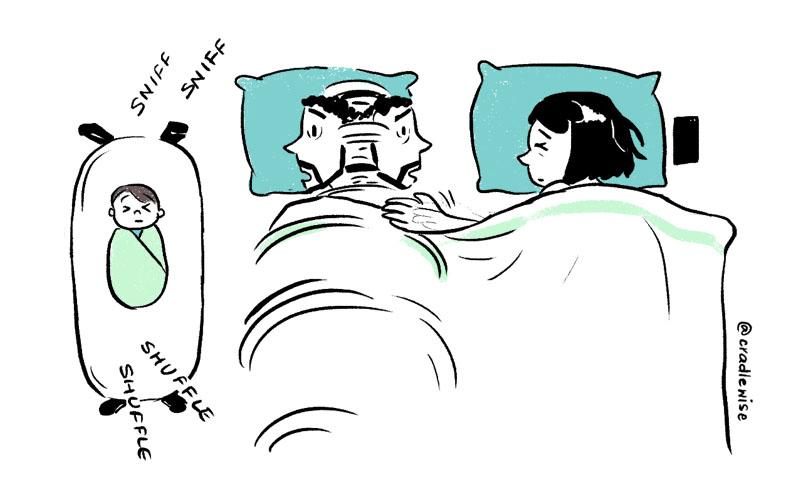 Product
15 questions all new Cradlewise parents ask
Cradlewise Staff
Welcome! We are thrilled to have you join the Cradlewise family. 🧡 Have questions about our smart crib? We've got you covered. Here are the top inquiries that our community of parents frequently ask us.
Can I start using Cradlewise from day one?
Yes, you can start using Cradlewise from day one of welcoming your little one to the world. You probably already know that newborn babies need a lot of sleep (16 to 18 hours a day!).
But babies sleep in short cycles of 20 to 50 minutes, which means they'll be up almost every hour. Sometimes they'll go through phases where they are fussy and resist their naps and nighttime sleep. Our smart bassinet is there to serve as a helping hand when your child stirs from their slumber so they can get better and longer Zzzs.

How does this product compare to other smart cribs?
Cradlewise is the only all-in-one smart crib, bassinet, and monitor that helps babies (and parents!) get better rest.
Here are some standout features that make our smart crib stand out from the rest:
There is no one-size-fits-all solution to sleep. Every baby is unique. Cradlewise learns your little one's specific sleeping patterns so it can proactively auto-predict when they need soothing.
Unlike other smart baby beds, which are geared only toward the first six months, your child can sleep in Cradlewise up until their second birthday. (Or when they reach 33 pounds, whichever comes first).
Other products constantly rock and generate white noise at all times. Cradlewise ONLY bounces if your baby gets fussy. You have total customization control over the entire experience, including the bounce duration and level.
Apart from a highly customizable app, you can operate Cradlewise with simple gesture controls. Push to start bouncing and hold to stop.
What does the Cradlewise app do?
The Cradlewise app is your lifeline to your smart crib. Rather than having to download multiple apps for various functions, our all-in-one solution allows you to easily monitor your babe through a live feed, add a caregiver, control the bounce settings, curate soothing white/pink/brown noise to lull your little one to sleep, and much more.
The Cradlewise app updates constantly to add new features and/or to improve the user experience. It works on a wireless connection or Wi-Fi.
How does the app track my baby's sleep?
Cradlewise is a self-learning crib that learns and adapts to your baby's unique sleep patterns. It has a 3D camera that senses movement, sleeping position, and changes in breath rate to understand your baby's sleep patterns. You can get more info on your baby's sleep patterns through the analytics on the app.
What is the difference between auto mode and manual mode?
You can control Cradlewise in two ways: auto and manual
Auto mode:
Choose the Auto mode to enable Cradlewise to automatically soothe your baby to sleep.
In the auto mode, the crib will start bouncing by itself when the baby starts moving. (It will stop after a maximum of 30 minutes). It also automatically plays/pauses your baby's favorite white/pink/brown noise tracks or custom tracks/lullabies through Spotify.
You can further tune the auto mode settings to meet your specific needs, including:
Cap bounce to a minimum, etc.
Control the crib's sensitivity to baby movements
Disable bounce completely
Learn how to modify these specific settings.
2. Manual mode:
Cradlewise is most effective in auto mode. However, in some situations, you might want to take complete control of how the crib behaves. If the crib is in manual mode, then all of the smart features are turned off.
Between bounce and sound, the user can choose to keep either or both in auto and manual mode. Learn more about settings in manual mode.
What are the baby monitoring options?
Cradlewise is equipped with a camera (that also has night vision) and is fitted with microphones. This helps you keep a close eye on your sweetie 24/7. The field of view of the camera is restricted to the crib.
In the home screen of the Cradlewise app, single tap on the area of the screen where the video streaming is being shown. This will show a pop-up with three options: 1. video only, 2. audio only, and 3. both (live video and audio feed relayed together).
Video only is the default setting in both the bassinet and crib modes. Killing and relaunching the app, or logging out and logging back in, will set it back to "Video only."

Does the crib have a built-in white noise machine?
Yes! We have curated white noise-based sleep tracks that mimic womb sounds.
White noise helps your baby sleep because it resembles the sounds of the womb. It creates a blanket of sound around your baby, which masks the external noises that might disturb your little one and wake them up.
The Cradlewise app also includes pink and brown noise. (Research has shown that steady pink noise helps babies fall into a deeper and longer sleep.)
Learn more about Cradlewise's white noise features.
Can I create my own sleep tracks?
Yes, you can also create your own sleep tracks for your baby by choosing white, pink, or brown noise and layering it with heartbeat and breathing sounds.🎧
You can create your own sleep tracks by navigating to Sleep tracks on the Cradlewise app and tapping on Modify. We have an article on our website to help guide you.
How long does Cradlewise bounce once it starts bouncing?
You have total control of this using the "Bounce Duration" setting. Select from a range of five to 30 minutes. To access, go to Settings > Crib > Bounce > Bounce Duration.
When the crib bounces and the baby goes to a deeper state of sleep, the crib keeps bouncing with reduced intensity all the way till the baby slips into a deep sleep.
On the other hand, if the baby continues to cry or stays awake, then the crib times out as per the duration set in the app settings.
If you wish the bounce to continue even after your baby sleeps, then choose the "Always on bounce" option on the App. You can also choose the intensity for the "Always on bounce" setting. This is the intensity to which the bounce reduces once the baby falls asleep.
Can I put the crib in bounce mode after breastfeeding my baby?
Yes, you can place the baby in the crib after burping the baby. In fact, many parents breastfeed, burp, and place the baby in the crib for the night.

Have you measured exposure to electromagnetic fields (EMF) close to where the baby would be sleeping in the crib?
The Wi-Fi power in our crib is ~ 31mW, which is 10 times lower than an average iPhone that emits a radiation power of ~ 320mW.
The calculation is based on the typical distance of the baby's body from the bassinet monitor. In cradle mode, the distance will be even greater.
Our Wi-Fi module is located on the top rail away from the baby. (In contrast, other smart cribs on the market feature the module just below the baby and therefore require additional protection to reduce radiation.)
What safety standards does the crib comply with?
We comply with these mandatory safety standards:
ASTM F406 for Non-full-size baby cribs/play yards
ASTM F2194 for bassinets
FCC certified
Is the crib UL GREENGUARD Gold certified?
Yes, our crib is GREENGUARD Gold certified.
The GREENGUARD Gold Certification means that our smart crib is made of materials with low chemical emissions, contributing to cleaner indoor air. This gives your baby a healthy environment to sleep and grow.
How do I assemble Cradlewise?
It usually takes around 45 minutes in total to assemble the crib, from unboxing to final setup in the nursery. Follow this how-to tutorial on putting your crib together.
How can I clean my smart crib?
To clean the mattress cover, the fitted sheet, the bassinet mesh, and the crib mesh, you can machine wash cold in a gentle cycle. (Wash them separately or with similarly-colored baby laundry in cold water using a mild detergent, no bleach though.) Tumble dry with no heat. Make sure the mattress cover is completely dry before using it again (avoid ironing it).
It's important to wash the fitted sheets and mattress cover before your baby sleeps in Cradlewise for the first time. Air-dry the sheets and mattress cover, as they might shrink in the dryer.
If your child has a bed-wetting accident, don't worry. Although the mattress itself cannot be washed as it is made of coconut choir, it's protected by a mattress cover and fitted sheet (both of which are waterproof and can be machine washed). This can prevent soiling the mattress. Do not use the mattress by itself without the mattress cover and fitted sheet.
You can clean the Cradlewise mattress core by using a regular dry fabric to remove dust, if needed. (Keep in mind to not wash or use any damp cloth to clean the surface of the mattress core.) Also do not bleach, iron, or dry clean the mattress. Do not remove the cover of the mattress core.
Have more questions about our smart crib? You can find the answers here.
Learn more about your Cradlewise:
Stay in the know
Sign up to get sleep tips, exciting product updates, and special offers right into your inbox.